Hi! I'm going to share 3 recipes from other bloggers that I've made recently because they're awesome and easy to make a lot of.
I like to meal prep my lunches for the week so I don't end up creating random meal of granola bars, veggies, bananas and peanut butter until I'm full. I also like to just have some pre-made food ready in case I don't feel like cooking dinner totally from scratch.
This week, I made 3 lbs of Chinese Orange Chicken from Damn Delicious (2x the recipe because I would be sharing with boyfriend), a pot of One Pot Chili Pata from Budget Bytes, and I plan to make these Sweet Potato Peanut Butter Swirl Brownies from The Healthy Maven again because they are awesome.
This turned out really well, although we didn't use eggs (boyfriend is allergic) and the breading (cornstarch) would have stayed on much better if we had. I would suggest using eggs.
If you do double the recipe like we did (although I doubt you will because 3 lbs is an enormous amount of chicken…) I wouldn't recommend adding all of the oil into the pan at one time haha. Split up the chicken AND the oil into two batches instead of trying to do it all at one time. Other than that, it was amazing. We had bell peppers, green onion and some white rice with the chicken.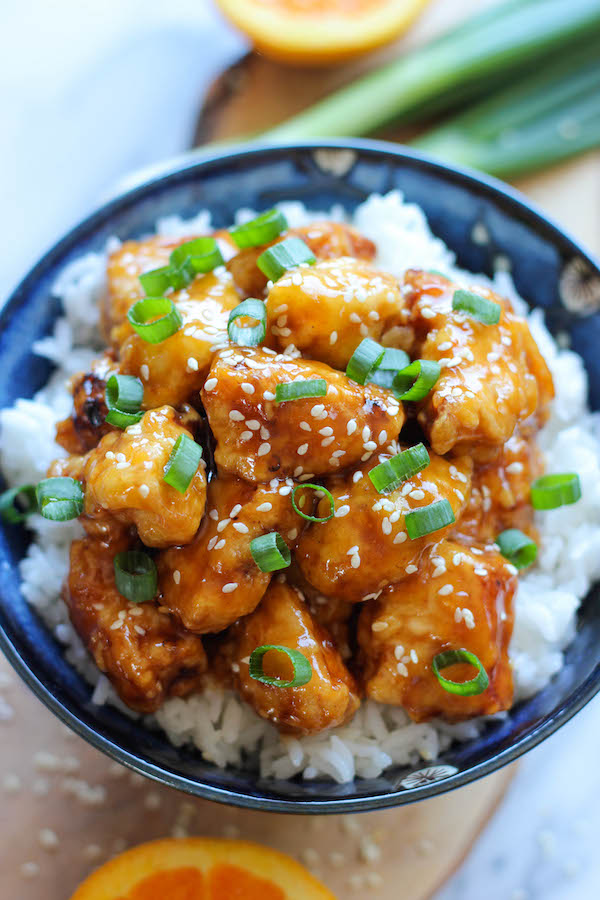 I've followed this blog for a long time and it's awesome. Beth (the blogger) makes cheap recipes that are really good, and tells you exactly how much you'll spend on the recipe and each serving. Since I'm going back to school and will be kind of broke for the next few years, I'm trying really hard to spend less on groceries.
This was the first recipe of her's that I've made in awhile and it turned out really well. I didn't put beef in it because I didn't have any and it was still flavorful. If you're making a gluten free version, just sub in rice noodles or Banza pasta. I used brown rice noodles and they didn't turn to mush surprisingly.
Yes. I made these a few weeks ago and was definitely pleased. I didn't have chocolate chips at the time, so I used more cocoa powder and coconut oil instead. They still turned out really well and had less sugar, but I think chocolate chips is usually just the best way to go!
They are healthy-ish/healthier than most brownies because they have sweet potato and no added sugar (just the chocolate chips), and are very rich and fudgey. Definitely a good/easy dessert to have laying around.
I made 2/3 of these recipes this week already and I'm excited about the brownies to come. I'm definitely a blog stalker and have been for the past… 5 years probably (since people started posting food on instagram and since I realized instagram was more than just applying filters to my own personal photos…).
Enjoy!
-Jenny
<a href="https://www.bloglovin.com/blog/18865769/?claim=kr6s8w3bv7n">Follow my blog with Bloglovin</a>